Surf and Yoga Portugal with Apura Yoga: the Original Surf & Yoga Retreat
Apura Yoga offers transformative and inspiring yoga retreats such as Surf and Yoga Portugal, surf and yoga retreats in other exciting locations, blissful yoga retreats, SUP & yoga retreats, yoga & meditation retreats, deluxe surf & yoga retreats, yoga and events & workshops in Portugal and elsewhere.
Looking for something different? Apura Yoga Surf and Yoga Portugal is truly unique, we combine Yoga with Surfing and other water or outdoor sports for an unforgettable retreat experience. Dive into the ocean and leave your worries behind! You will experience an active holiday that nourishes body, mind and soul.
Surf and Yoga are an amazing combination. Over the years, Apura Yoga has developed a concept of Surfyoga in which the yoga practice supports and enhances your surfing performance. Your hosts, Donovan and Yvonne, share more than thirty years of yoga practice as well as a solid education and training in meditative practices. Both are experienced surfers and real water people, they surf everything from a short board to a longboard and everything in between, even a Standup Paddle Board on flat days. They love the ocean, and this love they share with everybody who comes on an Apura Yoga Retreat. Your hosts are both certified as surf coaches and yoga teachers. This level of expertise you will find in no other surf & yoga retreat on the planet.

Our Surf and Yoga Portugal Retreats take place at some of the most fantastic breaks and the European West coast of Portugal. Donovan, who is originally from California, loves this coast, because of the incredible variety of waves, lovely people, good food and amazing wine. Yvonne, who is half-Portuguese, knows this coast from a very young age and loves sharing her love for this country with visitors from all over the world.
Apura Yoga allows the body to recover faster from the surf session or any other outdoor activities you enjoy. With Apura Yoga you can get the most out of your yoga holiday.
You take with yourself an amazing experience and also a solid foundation for further practice of yoga and the sport, you love to do the most.
Leave your worries behind you and experience a yoga retreat that you'll never forget.
Surf and Yoga Portugal Packages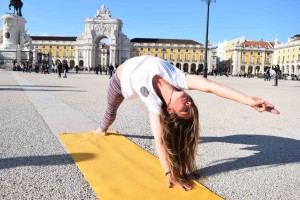 Take in a new impression of Lisbon on this retreat and do a yoga safari with us!
Testimonials

Unique combination of surfing and yoga. Balance for body, mind and soul. Hanging loose at its best!
Amazing experience! Like minded people made the whole trip unforgettable. Highly recommended to others.
Totally awesome retreat and a teacher who knows absolutely what he does.
I loved it! It was really relaxing.
Best yoga session I have ever had.